| When | Participants | Cost | Requirements |
| --- | --- | --- | --- |
| This ran in Feb 2018. Contact the organiser for more next opportunity | Open to all. | £ 200 | None. Open to all |
In this weekend workshop we will explore:
Chakras
Tantra massage
Elemental touch
Return to the Divine mother ritual
Initiation of lingam and yoni of light
And more.....
Combining touch, breath, ritual, intimacy, to enter into elevated states of awareness and connection. These techniques give us more awareness of our energy body and how to truly be in the moment of pure prescence, we can bring about healing for ourselves and others.
So how does this happen?
In order to become multi-orgasmic, people of all genders need to raise their energy to at least the 3rd chakra. Their life-force energy/rocket fuel, then generates extended periods of bliss. So what does that do? The physical body and energy body together can be viewed as a pharmaceutical farm which produces neuro- transmitters and mod altering hormones such as oxytocin (the love drug) and tryptophan (spiritual connection) which create states of altered awareness in which the tantrika is open to more inspiration, new ways of thinking, and connectedness. Other substances released during prolonged periods of ecstasy release cell regenerative substances. The yogis and tantrika s have know this for 1000's of years, only now are we re-discovering these ancient ways. In our culture of increasing isolation, to re-train our ways of connecting and intimacy is a life-enhancing choice. Join kira to harvest the gifts of an ancient gnostic tantric lineage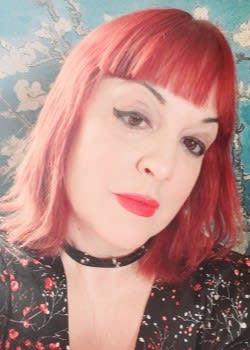 Teacher Kira
Taught by Kira, Grail Carrier in the Lineage of Sophia. Kira is a healer and Tantric practitioner with many years experience. Kira has trained in a range of Tantric modalities including shamanic tantra and has trained with Padma Devi. She is qualified in Swedish Massage and Energy Healing.
The Workshop Venue
Based in central Bristol in a spacious, heated private group space. The workshop is non-residential. Close to the venue are cafe's serving gorgeous food, including vegan.
Contact Information
For information, booking, questions about this event. Please contact the organiser below
JadeLotus14@Gmail.com